AFRICAN TITLES TO THE HIGHEST BIDDER

By Michael Amakor: Quite recently there has been they disturbing trend of world boxing organizations staging african championship bouts and giving away belts with no connection to Africa. Just recently Daniel Geale won the WBA Middleweight Pan African title, and David Ustinov defeated David Tua for the vacant WBA Pan African heavyweight title. What is curious is that none of these fighters are African and none of these fights took place on African soil. It is time for sanctioning bodies particularly the WBA to stop to padding fighters records with a misleading African title that is not recognized or televised in Africa. For 2014 I urge african boxers, promoters and officials to keep up the struggle of making boxing the number one sport in Africa and to make sure to help your champions become world champions by whatever means possible. Please Contact the Editor. 3/16/2014

AFRICAN BOXING NEWS TEAM

MICHAEL AMAKOR

JOIN THE AFRICAN BOXING TEAM.

WE NEED YOUR HELP TO MAKE BOXING THE NUMBER ONE SPORT IN AFRICA.

CARLOS TAKEM

WBO Africa Champion

ANTON NEL

SOUTH AFRICAN HEAVYWEIGHT CHAMPION

NEWS CLIPS

South Africa's boxing champs

Zimbabwean heavyweight wins belt

INTERVIEWS

Interview with "Bad Boy" Eromosele Albert

Emmanuel Nwodo Training Camp Notes
Joseph Agbeko Interview

Cotto vs Clottey

PETERS VS SYKES
Peters vs Williams

HIT LIST

Samuel Peters

Former WBC Heavyweight Champion

Ike Ibeabuchi

Heavyweight Contende

King Agbeko IBF Bantamweight Champion

Jaffa Ballogou

IBF Continental Africa Cruiserweight champion

LINKS
Clottey Dominates Mundine over 12 Rounds
Editor Notes: Clottey, a former African Boxing Union Welterweight and Ghanian Light Welterweight Champion shocked Anthony "The Machine" Mundine in Australia knocking him down 5 times enroute to win the WBA International Jr. Middleweight title, Don't joke with an African pressed to the wall, All hail the new champ
*********
Joshua "The Grandmaster" Clottey went down under (Australia) and fought a virtuoso of a fight as he thoroughly dominated hometown hero Anthony Mundine over 12 rounds to win the WBA International Jr. Middleweight title on April 9th:

From the very start Clottey showed he was the better fighter and imposed his will on Mundine. Clottey took the fight to Mundine and scored the first of what would be five knockdowns in the 3rd round. The assault continued with Clottey scoring two more knockdowns in the ..continue

---
Amr Habesh Captures UBO All-Africa Title In Egypt
February 28, 2014: On Thursday February 27 at the Becho Sports Club in Cairo, Egypt, undefeated local prospect Amr Habesh captured the vacant Universal Boxing Organization™ (UBO) All-Africa Cruiserweight title by defeating fellow countryman Mohamed Abdufatou.
Habesh was declared the winner by technical knockout in round seven, when a deep cut over the right eye of Abdufatou, caused by a punch, prompted referee Saleh Abdulbari to stop the competitive affair.
At the time of the stoppage two of the judges had Habesh ahead by four points, while one judge had Abdufatou in front by two points.
With the victory Amr Habesh, who also won the Egyptian national title in the process, improved his professional record to 7-0 (5), while Mohamed Abdufatou falls to 7-7 (4).
---
November 23, 2013 - It was a real night of the underdogs on Friday November 22 at a packed Cape Sun Hotel in Cape Town, South Africa, as Zimbabwean Elvis Moyo and late replacement Themba Tshicila won World Boxing Federation (WBF) All Africa titles at Heavyweight and Super Featherweight respectively.
Having fought to a controversial draw in their original encounter last March, Moyo put all the controversy aside in this rematch and beat local favorite Osborne Machimane with a smart tactical performance, showing it was no fluke that he gave current WBF World Cruiserweight champion Danie Venter a torrid time in his last bout.
After ten rounds of boxing, judges Elroy Marshal and Rasie Erasmus scored the fight 99-91 and 98-92 for Moyo, while judge Clifford Mbelu seemed to be way off the mark with his 95-95 score.
With his fine performance going out live on television in Zimbabwe, the new ..continue
---
African Boxing News Notes
By Michael Amakor | November 29 2013
Welcome to the only website dedicated to African Boxing. We follow former African Championship belt holders in their campaigns for world titles.
On the upside boxing appears to be thriving in Ghana and particularly in South Africa, both which have produced dominant champions like Azumah Nelson, Ike Quartey and Gerry Coetzee to name a few respectively, other countries like Nigeria have had sporadic bouts of boxing fever in the sixties with legends like Dick Tiger and Hogan Kid Bassey only to see that momentum flame out.
On the downside there appears to be no real push to crown AFRICAN boxing champions with the prestige similar to the European Union, and whenever there are fights you never get to see or hear about them. Most countries in Africa also do not have reigning champions. The only time we get to see Africans boxing, is during an international competition like the olympic or the commonwealth games, however many of these olympians winners are virtually left to their own devices in navigating the tortuous route to a world title.
This phenomenon is unbelievable as there is so much potential from the teaming mass of humanity in the continent and there are so many street fights that you would think that various championships would be organized. We need your support in changing this by contributing articles, and sponsoring fighters in their quest to become champions.
---
Eleven African boxing titles declared vacant
T
he Africa Boxing Union (ABU) has declared 11 vacant titles after its recent rankings released to the Ghana Boxing Authority (GBA).
The vacant titles include Heavyweight, Cruiserweight, Light Heavyweight, Super Middleweight, Super Welterweight, Super Lightweight, Lightweight, Super Flyweight, Flyweight and Light Flyweight.
Information gathered by the GNA Sports, indicates that the Welterweight, Super Featherweight, Featherweight, Super Bantamweight and Bantamweight titles are being held by boxers in the category. According to the information, the Welterweight title is being held by .
.continue
---
By Prince Dornu-Leiku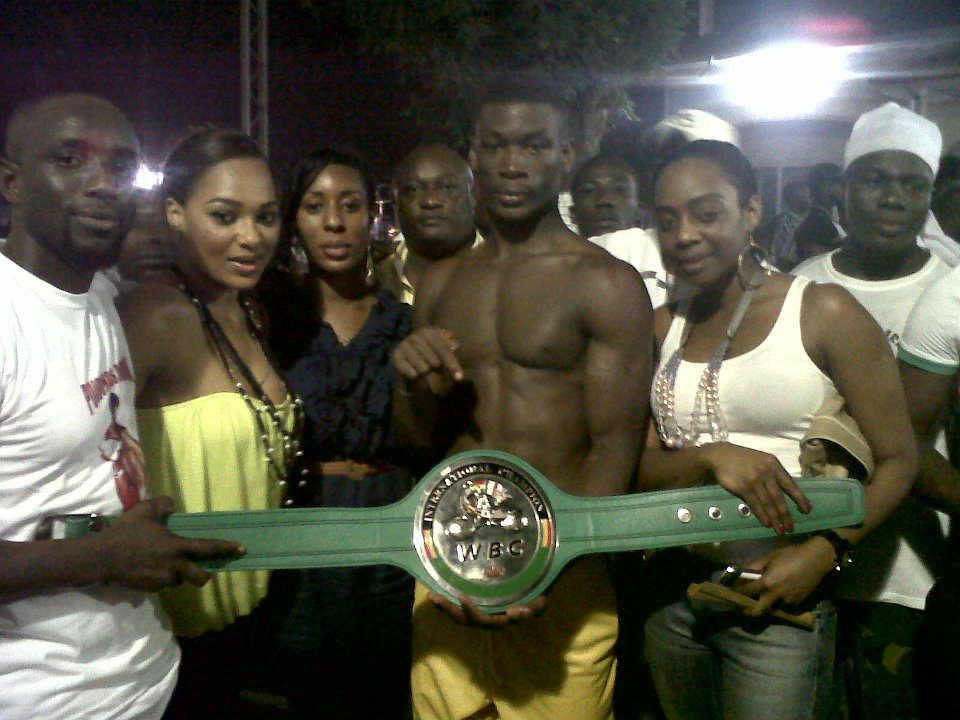 Ghana's Patrick Allotey is the new WBC International silver welterweight champion after claiming a unanimous points victory over Patrick Sou Toke last night in Accra. All three ringside judges scored the fight in favour of the unbeaten Ghanaian who enforced the first career loss on his Burkinabe namesake.
WBC Vice-President Houcine Houichi who is also President of ABU was on hand to decorate Allotey (now an impressive 20-0, 15 KOs) with his new belt. Afterwards, Allotey praised Sou Toke (14-1, 7 KOs) for being a good opponent but is quickly looking beyond this fight.
"The opponent was good, I won't say he was tough but he was good and a very good test. I want to be a world champion, I can't say when but I will work very hard for it," the new champ told Ghanaian website SportsInGhana.com moments after his coronation.
Allotey's win over Sou Toke was the headliner of the 'Put up or Shut up' bill put together by Ghanaian promotional outfit Landmark Promotions and Management Limited under the auspices of ..more
---
By Prince Dornu-Leiku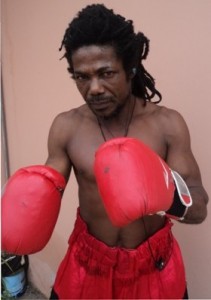 Ghana based Nigerian pugilist Simon Peter McIntosh is not giving up on the teenage dream of becoming a boxing world champ, even at the ripe old age of 51. Despite having last fought over two years ago, McIntosh, 30-15-4-2NCs (20 KOs), insists he is in top shape and even ready to beat the best pound-for-pound boxers in the world.
McIntosh, born Anazor Obele, makes a first return into the ring Boxing Day tomorrow in the Ghana capital of Accra on the 'Put up or Shut up' boxing extravaganza put together by Landmark Promotions and Management Limited under the auspices of the Ghana Boxing Authority (GBA) and the World Boxing Council (WBC). McIntosh takes on Isaac Aryee over 10 rounds in a non-title Lightweight contest.
"Tell Ghanaians and the world that McIntosh the lion of Africa is back to restore the pride more
---
By Prince Dornu-Leiku

Following last Friday night's 9th round stoppage win over former world champion Roman Karmazin in an IBF Middleweight eliminator, Osumanu Adama has declared a readiness to win all four major world titles in the division.
Osumanu has exclusively told Ghanaian website www.sportsinghana.com from his Chicago base that he is up for the challenge of either of IBF champ Daniel Geale, WBO champ Dmitry Pirog, WBC king Julio Cesar Chavez Jr. or WBA champion Gennady Golovkin.
"Karmazin is a very experienced boxer, it was not an easy fight. But during the 8th and 9th rounds I punished him too much and his corner man threw in the towel. I want all four belts IBF, WBO, WBC and WBA, I deserve these belts because I am the best. Peter Manfredo Jr. (who fights WBC champ Chavez Jr. next month) is running away from us, (NABF champ) Andy Lee is running from
continue
---
ON SHOBOX: THE NEW GENERATION
Don't Miss The Replay On Tuesday, Oct. 4 At 10 p.m. ET/PT On SHO Extreme
Sept. 30, 2011 – Olusegun Ajose earned a shot at World Boxing Council (WBC) super lightweight champion and Mexican legend Erik Morales with a unanimous decision victory over Ali Chebah in Friday's main event of ShoBox: The New Generation on SHOWTIME® from Chumash Casino Resort in Santa Ynez, Calif.
In the ShoBox co-feature, No. 5-ranked World Boxing Association (WBA) and 12th-ranked World Boxing Organization (WBO) lightweight Darley Perez scored a sixth round knockout over Oscar Meza when Meza's corner stopped the bout following the sixth round. The ..continue
---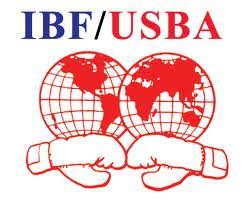 OFFICE OF THE PRESIDENT
899 Mountain Ave., Suite 2C ˇ Springfield, NJ 07081
Phone: 973-564-8046 ˇ Fax: 973-564-8751
August 16, 2011
Via email and USPS
Dana Jamison
Don King Productions
401 Fairway Drive
Deerfield Beach, FL 33441
RE: Joseph Agbeko vs. Abner Mares – IBF Bantamweight Championship – Optional Defense
Dear Ms. Jamison:
IBF Championships Chairman Lindsey Tucker and I have reviewed the IBF Optional Bantamweight Championship bout that took place on August 13, 2011 in Las Vegas, NV. between Joseph Agbeko and Abner Mares.
Mr. Tucker and I observed several low blow fouls committed by Abner Mares. While the referee, Russell Mora, issued numerous warnings for low blows during the course of the bout, he neglected to deduct points for these fouls. With 1:03 left in round eleven, Joseph Agbeko was hit with a low blow foul that forced him to the canvas. Mr. Mora determined that the blow landed by Mares was legal and began to count indicating that a knockdown had occurred.
Based upon our review of the bout, it has been determined by the IBF that inappropriate conduct by the referee affected the outcome of the fight.
In accordance with IBF/USBA Rule 3.D., the IBF is ordering a rematch between Joseph Agbeko and Abner Mares for the IBF Bantamweight title which must be held within the next 120 days or by December 14, 2011. Neither boxer can take another fight until the rematch is completed. Negotiations should begin immediately and be concluded by September 15, 2011. In the event that you have not negotiated this bout by September 15, 2011, the IBF will call for a purse bid to be held to determine who will promote the fight.
If you have any questions, please do not hesitate to contact me at the IBF office.
Sincerely,
Daryl J. Peoples, President
IBF/USBA
Cc: Lindsey Tucker
William James
Eric Gomez
David Itskowich
Linda Torres, Esq.
Keith Kizer
---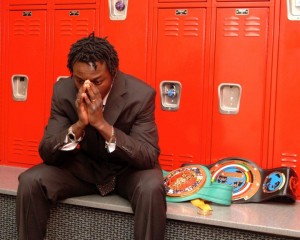 SUGAR RAY TO FIGHT FOR WBC TITLE ON AUGUST 30
By Prince Dornu-Leiku
The WBC international super lightweight championship fight between Ghanaian Sugar Ray Narh and Prawet Singwancha of Thailand scheduled for China mainland of Macau this Saturday July 30 has been postponed to August 27 due to some technical challenges.
Narh, (25-2, 21 KOs), famously known to his fans as the Emperor is smarting from his second career loss in his last fight against American Mike Alvarado last May 7. It is a defeat he blamed on an illness hours before entering the ring, and is counting on victory against the experienced Singwancha (46-3-2, 26 KOs) to authenticate his claim for bragging rights among the big boys of the light welterweight division of world boxing.
Now he has to wait a bit longer to state his case against the 34 year old Singwancha who has held the WBC International Light welterweight belt since taking it via a unanimous points decision victory over Heri Andriyato in April 2009 and has previously also twice challenged for the WBA Lightweight world title.
"Nothing much, I'm just a little sad but it's going to give me a little more time to practice to go for the kill. I just want all of my true fans to take note of the new development and keep on supporting me with their prayers," Narh told SportsInGhana.com from his USA base.
It is however not too clear if the rescheduled fight on August 27 will still take place at the Venetian Macao Casino, Macao, Macao S.A.R., China.
AYI BRUCE WINS IBA WELTERWEIGHT TITLE
Bally's Atlantic City Results
Before a standing room only crowd at Bally's in Atlantic City, Ghana's Ayi Bruce, upset hometown favorite Shamone "The Truth" Alvarez and in the process picked up the Vacant IBA Continental Welterweight Title winning a majority decision over ten exciting and action packed rounds. Alvarez-Bruce headlined a seven bout card promoted by Joe DeGuardia's Star Boxing.
Alvarez came out hard and fast in the first landing with both hands to the head and body of Bruce and setting a pace that would continue for much of the fight.
The middle rounds saw both fighters more than willing to sit and trade, bringing...more
---
Kwadjo ready for Commonwealth title fight
Source: Sports in Ghana

Samoa based Ghanaian and Universal Boxing Organisation (UBO) Intercontinental super middleweight champion Joseph Kwadjo says he is ready to challenge for the Commonwealth title should a promoter be willing to stage the fight.

Kwadjo's trainer Gyan Singh says at the moment his fighter is ready for better fights and the Commonwealth super middleweight is a possibility. "It depends if a local promoter is interested in arranging the fight," said Singh who also revealed that they will prefer the fight to be held in Fiji.
The Ghanaian boxer is ranked 98 in the International Boxing Organisation (IBO) super middleweight listing and Singh says they are looking at fighting someone ranked ahead of him. "We are trying to get someone from Australia to fight him but they are making excuses," he said.
Kwadjo won the UBO title after defeating Zulfikar Joy Ali on points at the Vodafone Arena in Suva, Fiji on December 19 last year. Soon after his victory, Kwadjo said he would bring a world title fight to Fiji. "We are aiming to have a title fight in April but that's for the promoters to sort out," he said.
Singh confirmed they have received calls from overseas. Boxing Commission of Fiji board member Tim Nobriga said there was a possibility of staging a title fight in April but a promoter needed to confirm it. At the moment, Kwadjo is continuing with his training with Gyan
---
African Golden Boy Defends UBO Title March 7

World class Tanzanian Mbwana "African Golden Boy" Matumla, 19-4 (11), will defend his Universal Boxing Organization Intercontinental Bantamweight title on March 7 at the PTA Hall in his hometown of Dar Es Salaam.
This was confirmed recently by UBO All-Africa Commissioner Emmanuel Mlundwa.
Matumla will fight former African champion, and current Ugandan titlist, Sande Kizito who is coming off four straight knockout victories. Kizito, 12-8-1 (5), will be the underdog entering the ring, but will find encouragement from his recent activity and from looking back at good performances against world class names such as Vic Darchinyan, Tabtimdaeng Na Rachawat and Hussein Hussein.
The reigning champion won the UBO title in December 2009 when he stopped another Ugandan, Festus Omondi, in the fifth round of a cracking fight promoted by Joseph Kusaga and his Prime Time Promotions.
Mr. Kusaga will also stage the Matumla vs. Kizito bout, and there are hopes that a second UBO title fight can be added to the bill.
---
PACQUIAO-CLOTTEY LANDS AT COWBOYS STADIUM
Pacquaio Publicist Press Release: January 10, 2010
The stars will fight, big and bright, deep in the heart of Texas! Jerry Jones and Bob Arum, owner of the Dallas Cowboys and chairman of Top Rank, respectively, announced today that Cowboys Stadium would be the site of the MANNY PACQUIAO vs. JOSHUA CLOTTEY World Welterweight Championship fight taking place on Saturday, March 13 and broadcast Live on Pay-Per-View. Formal news conferences at Cowboys Stadium and in New York next week will provide details on tickets and the pay-per-view broadcast. Pacquiao vs. Clottey will be promoted by Top Rank, in association with the Dallas Cowboys and MP Promotions.
Pacquiao and Clottey boast a combine record of 85-6-2 (59 KOs) -- a winning percentage of 91% and a victory by knockout ratio of nearly 70%.
"I have wanted to bring a major boxing event to North Texas for many years, so why not bring in the biggest and the best?" asked Jones. "Manny Pacquiao is boxing's No. 1 pound for pound attraction and the world champion. Manny defending his title against Joshua Clottey is ...more
---
Kwadjo Edges Ali to Win UBO Title
UBO Press Release - December 20, 2009

Samoan-based Ghanaian Joseph Kwadjo (12-1, 8 KOs) is the new Universal Boxing Organization Intercontinental super middleweight champion. On Saturday December 19, at the Vodafone Arena in Suva, Fiji, Kwadjo scored a unanimous decision victory over local favourite Zulfikar Joy Ali.
Scores were: 118-114 (Jeremaia Ledua), 118-111 (Laurie Glozier) and 115-113 (Steve Miles).
"I'm happy that I've managed to win this fight and now I want to bring the world title fight to Fiji," Kwadjo said after the fight to the Fiji Times, and threw out a challenge towards UBO world champion Kali Jacobus.
"This win is special for me. It's for the people of Fiji who have always been behind me."
Joy Ali, who fell to 29-9-6, 24 KOs, was not happy with his own performance, and is hoping for a rematch next year. While UBO Oceania commissioner Reginald Leca felt Ali spend too much time covering up, he did feel that this fight was one of the best he has refereed in the country.
---
AGBEKO & YONNHY PEREZ PR CALL HIGHLIGHTS
Live Interview / Joseph Agbeko Predicts Knockout over Perez
Joseph, why are you so confident you're going to win this fight by knockout?
AGBEKO: "I'm so confident because Yonnhy Perez is a good fighter. He can come forward, he can go backward. Fighting a very good fighter is always difficult. It makes you work harder. Yonnhy Perez can definitely not stay in there with me. He's definitely going to get stopped."
What did the win over Silence Mabuza do for your confidence?
PEREZ: "Of course it was a boost of confidence, but one thing that everyone needs to be aware of is that my confidence didn't come just from that fight. I have my confidence in my preparation and I'm confident every time I step in the ring, no matter who I'm facing. Beating Mabuza was a great deal for me, but I had confidence in my power and my ability even before I stepped in the ring, and the same thing is going to happen on Oct. 31."
Yonnhy, what do you think about Agbeko's prediction of a knockout?
PEREZ: "I'm ready for any type of battle to happen in the ring. I don't want to make a prediction of my own, but as far as what Agbeko said coming into this fight and predicting a knockout, it's OK. That's why I live in this country, there's freedom of speech. He can say whatever he wants about any issue. I've traveled to Africa, and I know how the fighters of that continent are. I know they can talk more than what they can actually do in the ring. He shouldn't spit up in the air because all that's going to fall right on his face."
Where you impressed with his performance against Darchinyan?
PEREZ: "I wasn't really impressed. I was actually a little bit disappointed. I thought that being the bigger man he should have been able to handle him a little bit better. It's like me moving up to 122 or 126 and trying to beat a bigger man, which, in reality, it doesn't work that way. So, I was not that impressed. "
Are you planning on impressing Yonnhy?
AGBEKO: "This fight is going to be an enjoyable fight for me. I'm a confident fighter and I really enjoy it when I fight another confident fighter. It's going to be a very enjoyable fight for me."
---
Joseph Agbeko Predicts Knockout over Perez
Press Release: October 14, 2009 - Watch Fight Trailer
International Boxing Federation bantamweight champion Joseph King Kong Agbeko has boldly predicted he will score a knockout victory over undefeated IBF No. 1-ranked mandatory challenger Yonnhy "El Colombiano" Perez when they meet in Don King's Halloween Thrilla at Treasure Island Hotel & Casino in Las Vegas on Saturday, Oct. 31. (SHOWTIME 9 p.m. ET/PT, delayed on West Coast)
"I think I will defeat Yonnhy Perez by knockout," Agbeko said from his South Florida-based training camp. "I'm not underestimating him. He's a good fighter, but I know this is going to be a knockout for me.
"Perez should keep his confidence as an undefeated fighter and bring it to the ring. I want to face him at his best. After our fight, he will feel the same way I did after I suffered my...more
---
ENNIS WINS THRILLER TO CAPTURE USBA JR. MIDDLE TITLE IN PHILLY - Press Release: October 19, 2009
Derek "Pooh" Ennis captured the USBA Jr. Middleweight title with a thrilling twelve round unanimous decision over Eromosele Albert this past Friday night at The Legendary Blue Horizon.
This memorable bout was the main event of a seven bout card that was part of Greg Robinson's Power Productions 10th anniversary show.
Ennis of Philadelphia and Albert fought at close quarters for the full thirty-six minute fight and the battle became another Legendary Blue Horizon classic.
The two banged away at each other as Ennis used quick combinations that he divvied up between the body and head while Albert continued to press forward and gave as good as he took.
As the fight ended, ringside media members were split on who should have ..continue
---
News Reports
---